Congratulations to Adam on his promotion to assistant coach with the Avs! Looking forward to seeing you more this year than in the past two! Thanks to the Avs for keeping me on my toes! More to come soon! Please excuse the mess while I switch everything back to the .net domain name... I had let go of deadmarsh1828.com due to money restrictions. I didn't want to, but I had to.
-- Amanda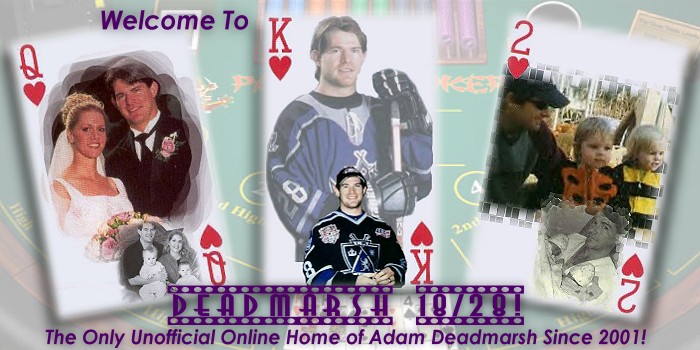 *~ ENTER ~*
Site best viewed in:
Internet Explorer - 1024x768 - High Colors
With IFrames Enabled

Site originally launched
at Homestead on
May 11, 2001

Site last updated on
August 11, 2011



This site does not claim any association with Adam Deadmarsh, the NHL/NHLPA, The Portland Winter Hawks, Colorado Avalanche or the Los Angeles Kings.
This is a fan-operated site which either credits everything to its proper authors and/or things are used in conjunction with Fair Use Copyright Law #107.
I do not make any money from this website.
Deadmarsh 18/28 is © 2001 - 2012 The Road To Anaphe.
free search engine submission