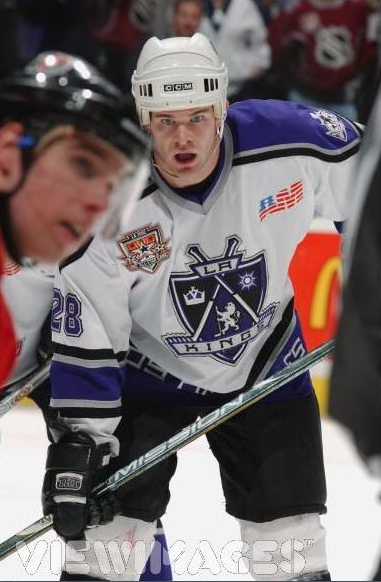 Various Career Achievements

"What had he hit already? What was he due for next? Did he ever get...? Was he ever in an all-star game? What awards has he gotten? Trophies? Nominations? AUGGH! Help me!"

Look no further...with the help of the wonderful NHLPA website, and that of some of his longtime fans, I hope to have all of his achievement questions answered right here on this page. Please feel free to scout out what I've managed to hunt up so far, and if you can give me any dates or help in any way, I'd be very grateful!
Enjoy!



He Has Hit The Big Time....NHL Firsts

Pro Team: Quebec/Colorado
Pro Sweater Number: 18
**Game: January 25, 1995 vs Philadelphia
**Goal: January 27, 1995 vs Buffalo

Goal as a King: March 3, 2001

Game as a King: February 24, 2001
Overtime Goal: November 22, 1999 against Dallas
**Assist: January 27, 1995 vs Buffalo
Hat trick: January 9, 2000 against Edmonton
*Second career NHL Hat Trick: October 25, 2002 against NYR
Penalty Shot: March 1, 1996 against Chicago's Jeff Hackett
Scored: Yes
Playoff Game:
Playoff Goal:
Playoff Overtime Goal: 2001 Playoffs, Game 6 vs Detroit at 4:48 into OT
Playoff Assist:
Stanley Cup: 1996 against Florida in Miami
All-Star Game:
Trade: February 22, 2001 to L.A.
Postseason Award Nomination:
Postseason Trophy Win:
**Named "first King to get 4 points in one period since Blake in 1991 against Calgary."**


** - Firsts in bolded black type contributed by AOLer PJC622.....thanks!
And the next milestone would have been what...?

NHL Goals: 184
Date 100 was hit: February 3, 1999
Opponent: Buffalo Sabres
NHL Assists: 190
Date 100 was hit:
Opponent:
Total Points: 374
Date 300 was hit: October 23, 2001
Opponent: Columbus Blue Jackets
Goalie: Ron Tugnutt
Date 200 was hit: February 3, 1999
Opponent: Buffalo Sabres
Total Games Played: 565
Date 500 was hit: December 20, 2001
Opponent: Ottawa Senators
Goalies: Hurme / LaLime
*100th game as a King played on October 23rd, 2002
against CuJo and the Red Wings

Total Playoff Games Played: 105
Date 100 was hit: 5/6/01
Opponent: Colorado Avalanche
Goalie: Patrick Roy


Career Highs

Points in one game: Five
When achieved: Tuesday, October 23, 2001
Against: Columbus Blue Jackets
Previous high: 3 games with 4 points (1st- 12/17/95 vs Detroit w/ 2G & 2A [shocker!],
2nd- 1/23/97 vs Pittsburgh w/2G & 2A, 3rd-3/28/98 vs Anaheim w/2G & 2A)
*His first career 4-point PLAYOFF game was in game 3 in the first round vs Phoenix (in 99?)
Goals in a game:
When Achieved:
Against:
Previous High:
Assists in a game:
When Achieved:
Against:
Previous High:
Penalties in a game:
When:
Against:
Previous high:
Points in a season: 62
What Season: 2001-02
Previous High: 60
What Season: 1995-96
What game mark was hit: April 8, 2002 vs Dallas
Goalie: Ed Belfour
Goals in a season: 33
What season: 1996-97
Previous High:
Assists in a season: 27 (4th time)
What season: 99-00

Point Scoring Streak
Amount of Games: 6
Dates: October 27 - November 5, 1999
Points: 10
Previous High: U/K amount of games
Dates: January 28 - February 5, 1999
Points: 5 goals

All information final as of 10:12 PM on 12/25/05.

If you have any questions, comments or submissions for this page, please email me.