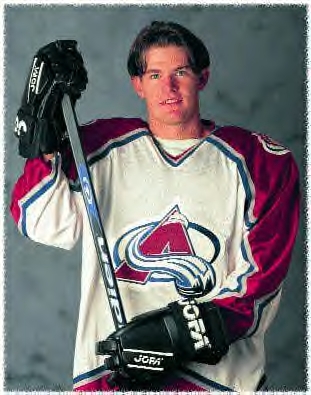 The Kid Has Been Around
From The Rocky Mountain News
Deadmarsh has accomplished plenty in the NHL, and he's only 24
By Randy Holtz
Denver Rocky Mountain News Staff Writer
He has the shaggy hair, the sheepish grin, the driven demeanor of a young buck.
This is because he is a young buck.
It only seems that Adam Deadmarsh has been around forever.
Deadmarsh, one of the original members of the Colorado Avalanche, will not turn 25 for another two weeks.
Would that we all could accomplish so much in our professional lives before our 25th birthday.
Check it out. Deadmarsh has:

Won a Stanley Cup.
Become the first player in history to have his misspelled name changed on the Stanley Cup. (The engraver originally chiseled, "Deadmarch.")
Played in three Stanley Cup conference finals.
Led his NHL team in goals.
Played in the Olympics.
Won a World Cup.
Played on three U.S. national junior teams.

All that, and he's probably at this moment playing the best hockey of his life, which is saying something despite the fact he could not drink legally just four years ago.
"I feel I've been blessed," the Avalanche right wing said as the team prepared for the Stanley Cup second-round series against Detroit that begins tonight at the Pepsi Center. "Believe me, I don't take what's happened to me for granted for a second."
Not taking things for granted has been one of the hallmarks of Deadmarsh's young career. Growing up in Fruitvale, British Columbia, close to the U.S. border and far from any major city, he developed a strong work ethic early, then rode that work ethic to NHL arenas by the time he was 19.
Despite criticism that he was inconsistent early in his pro career, Deadmarsh has progressed to the point he is viewed as a solid veteran, a crucial piece for a team trying to assemble another Stanley Cup puzzle.
There are more lustrous stars on this team. There are Peter Forsberg, Joe Sakic, Patrick Roy. But Deadmarsh has been with them all along, hitting people, mucking out pucks, creating space, scoring a modicum of goals but mostly greasing the skids for others.
Colorado's most explosive line so far in the playoffs has been Forsberg on left wing, Chris Drury at center and Deadmarsh on the right side. This is not coincidence. The brilliance of Forsberg and overall steadiness of second-year man Drury in part have been a product of Deadmarsh's grinding, all-out style.
"Every time I'm out there on the ice and I look to my right and see Adam, it makes me feel good," said Drury, last season's winner of the Calder Trophy as the NHL rookie of the year. "He's throwing his body around, doing some great things out there. That's his style of hockey. Crashing, banging people, making things happen. He's always ready, always mentally prepared. His intensity is huge."
That intensity was evident early on when his father, Hank, began coaching him as a young boy. The elder Deadmarsh had coached more gifted players the area of south-central British Columbia where they lived long has been a hockey hotbed but his son had that fire, that passion that makes decent players good and good players great. Young Adam was always stoked.
"He was a kid who just loved to play and loved to win," said Hank, an electrician by day who still coaches the local team by night. "He would always come up big in the tough games, the important games. He always had that willingness to compete. I think a lot of times, that's what makes a kid an NHL player. Not just talent, but that willingness to throw it all on the line for your team."
Hank Deadmarsh encouraged that passion, prodded it. By the time Adam was 16, he was playing for the Portland Winter Hawks of the Western Hockey League. While in Portland, he was selected by the Quebec Nordiques as the 14th overall choice of the 1993 entry draft.
Portland was a nine-hour drive from Fruitvale. Hank would go watch his son when he could. But usually, he was resigned to driving his car around Fruitvale, trying to find a good spot to pick up the Winter Hawks' radio broadcasts. He would sit there in the driver's seat, cursing as the radio signal wavered, cheering his offspring on some country road.
After 31/2 seasons in Portland, the Nordiques figured Deadmarsh was ready in 1994. They brought him up to join another promising rookie, this guy named Forsberg. The two became fast friends and still hang out together. Deadmarsh and Forsberg hold annual, one-on-one "national championships" in pool, golf, basketball and bowling. It's an odd match, the smooth Swede and the intense Canadian, but it works.
"He's just a great guy," Forsberg said. "He's a worker and he's always intense. But he's a fun guy, too. He's just a great guy to be around, the kind of guy who makes you feel good to be around him."
Drury feels the same way.
"Deader's just really down-to-earth, not pretentious at all," the young center said. "I think, like the rest of us, he realizes we're all pretty lucky to be in this situation."
For Deadmarsh, the situations just keep coming. Fortunate enough to hold dual citizenship since his mother, Eileen, is American-born, he played on the '98 U.S. Olympic team. And while that team didn't fare so well, virtually all of his other teams have. The Avalanche won the Stanley Cup in his first full season in the NHL. Another Cup could come next month. Deadmarsh, naturally, is stoked about it.
"A lot of very good players in this league go their whole careers without having the opportunities I've had. I'm not even 25 yet, and I've already won a Stanley Cup, been on two other teams that had a good shot at it, and now I'm on another one that has a good shot at it.
"There's a great emotional atmosphere on this team. We realize we have a chance to win it all. So that focus is there. It's been fun for me to play for an organization that's going to do what it takes to compete. Not every team in the NHL does that. I've had a great time here."
This is why Deadmarsh, a restricted free agent after these playoffs, hopes to stay with the Avalanche. That's considered a near-given. He likes the organization, and the organization likes him. It's difficult to imagine the Avaanche not coming through with a healthy raise from his current $1.8 million annual salary.
Deadmarsh, for his part, would like nothing better than to live and play in Denver well into his 30s.
And that will be a while.
He might seem like a wily veteran. But, really, he's just a shaggy-haired pup.
Contact Randy Holtz at (303) 892-5439 or sports@RockyMountainNews.com.