Adam's baby picture from the 2002-03 LA Kings yearbook.

Adam Deadmarsh's high school photo (and yes, I know that it is also his roster photo from the Winterhawks); Lake Ridge High School in Oregon, Class of 1993 (I think). :-)

Thanks to Chris for submitting this photo!
Courtesy NHLPA.com:

Position: Right Wing
Team: Los Angeles Kings
Shoots: Right
Height: 6'0"
Weight: 200
Birthdate: 5/10/1975
Birthplace: TRAIL, BC, CAN
Currently Resides: Manhattan Beach, CA, USA
Prior Residence: Morrison, CO, USA
Summer Residence: Trail, BC
Year Drafted and by Whom: 1993 by Quebec
Round Drafted: 1
Overall Choice: 14
Sweater/Roster Number: 28 in LA; formerly 18 in Colorado
Current Status: Active (as of 10/27/2001)
Compensation: $3,000,000.00 (as of 7/17/2002)
---
Adam Deadmarsh was drafted 14th overall in the 1993 Entry Draft by the Québec Nordiques. He made his NHL debut one season later on January 25, 1995 against the Flyers and scored his first goal two nights later against the Sabres. In that shortened 1994-95 campaign, Adam scored nine goals and 17 points and helped the Nordiques win the Northeast Division title. In 1995-96, Adam moved with the franchise to Colorado (now the Avalanche) and scored 21 goals and 48 points as a sophomore. On March 1, he scored his first penalty shot goal against the Blackhawks' Jeff Hackett. After winning the Pacific Division title in the regular season, Adam helped the Avalanche march all the way to the Stanley Cup. They defeated the Red Wings for the Clarence Campbell Bowl in the Western Conference and the Panthers for the Stanley Cup in the finals. In 22 games, he scored 12 assists and 17 points.

In 1996-97, Adam paced the Avalanche with 33 goals as the team won the Presidents' Trophy with a league best and franchise record 49 wins and 107 points. He also scored a career high 60 points. In the playoffs, he scored nine points as the Avalanche advanced to the Western Conference finals before losing to the Red Wings. The following season, Adam scored 22 goals and 43 points as the Avalanche won another division title. In the 1998 playoffs, Adam scored a pair of goals as the team lost in the opening round.

In 1998-99, Adam scored 22 goals and 49 points as the club won its fifth straight division title. He played only 66 games that year, but still scored 10 power play goals and recorded 121 hits. In the playoffs, he helped the Avalanche reach the Western Conference finals before losing to the Stars. In 19 games, he scored 12 points. In 1999-2000, Adam scored 45 points and 133 hits as the Avalanche won their sixth straight division title. On January 5, he scored his first hat trick. In the playoffs, Adam led the Avalanche to the Western Conference finals before again losing to the Stars; he had 15 points in 17 games.

In 2000-01, Adam was traded on February 21 with Aaron Miller, a first round draft pick, a conditional draft pick and a player to be named later to the Los Angeles Kings for Rob Blake and Steven Reinprecht. In 57 games split between the two teams, Adam scored 32 points and 128 hits. In the playoffs, he helped the Kings upset the Red Wings in the opening round and scored the series-winning goal in overtime of game six.

Adam joined the major junior ranks with the Portland Winter Hawks in 1991-92 and scored 30 goals and 60 points as a WHL rookie. After improving to 69 points in his second year, Adam scored 43 goals and 99 points in 1993-94. In 1994-95, before the start of the NHL season, Adam scored 28 goals and 49 points in just 29 WHL games.

Adam won a gold medal with Canada's Under-18 junior team at the 1992 Pacific Cup. He then represented the United States' junior team at three straight World Junior Championships: 1993, 1994 and 1995. In 1996, he first won a silver medal at the World Championships and then won a gold medal at the World Cup of Hockey with the United States. In February 1998, he was a member of the United States Olympic team at the Winter Games in Nagano.

Adam's nickname is "Sheepdog". Adam is good friends with Avalanche forward Peter Forsberg. Adam is a second cousin of former NHL player Butch Deadmarsh. His family includes his wife Christa and their twin daughters, Alexis and Madison, and they currently reside in Idaho.
---
Things said about Adam on the Portland Winter Hawks Website
(Sent in by Mark...thank you!)

1991-92
Deadmarsh is probably Portland's most noteworthy graduate in the NHL. During his rookie season, he scored 30 goals, 60 points, and rocked opponents with a plethora of body checks. He added to the fun already established by Badduke, Hulse, Williamson, and Rowland. No one played Portland without looking over his shoulder. It started to come together after Christmas, especially when the Hawks added even more depth by picking up Gordon Pell through waivers from the Ontario Hockey League and, especially, Nick Vachon, who was unhappy with his on-ice role at Boston University.

1992-93
Colin Foley led the offense with 106 points, but the Hawks had plenty of weapons. Vachon finished with 91 points, Jiri Beranek 86, Layne Roland had 41 goals, and Adam Deadmarsh and Scotty Nichol rumbled their way to 33 and 31 goals respectively while combining for 272 penalty minutes. Badduke was still the most robust enforcer as he put up 367 minutes all by himself.

Adam Deadmarsh, who would win the Stanley Cup in Colorado in 1996 and the World Cup for Team USA in 1997, went 14th overall in the first round of the NHL draft.
1993-94
The Hawks seemed to have talent that played with grit, too,as Deadmarsh mowed everyone over on the way to 99 points and Jason Wiemer, a man-child of a 17-year old winger, powered his way to 45 goals and 236 penalty minutes.

93-94 Playoffs-- West Division Finals
Games 1 and 2 were in Kamloops since the Blazers won the regular season championship by seven points. The Hawks had not won in Riverside Coliseum since early in the season. Two goals by Adam Deadmarsh in the game's first 11 minutes got things rolling, but the Hawks suffered a terrible letdown in the second period as the Blazers scored three unasnwered goals, one on a blue line blast by Ryan Huska.

Boy, did they. The Hawks stormed the Blazers, playing some of the most intense hockey in team history, scoring five unanswered goals in the second period on the way to a 6-3 win. The game was punctuated by a full-scale brawl between the two benches in the closing minutes immediately following Deadmarsh's flying body check on Blazer public enemy number one, Darcy Tucker.
---
Also sent in from Mark:

"Adam's brother Jake played in Portland at the same time (as Adam). Jake didn't do very well. He had some somewhat serious medical problems that season, and the Hawks let him go the summer of '94. I think he caught on with the Kamloops Blazers in the fall."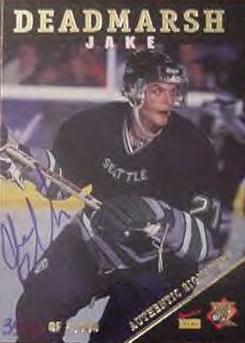 Picture of Jake Deadmarsh sent in generously by Rosalyn...Thanks!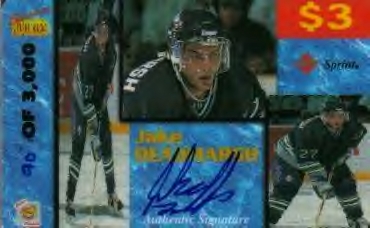 Found in an Ebay description regarding the phone card pictured above:

This is a RARE, Mint, 1994-95 Signature Rookies RC (rookie card) insert of Jake Deadmarsh. At the time of this card he played for the Seattle Thunderbirds (WHL), and during the 2000-2001 season he played for the Huntington Blizzard (ECHL). This particular card is also hand numbered and #'d one of 4,500 and is an insert called "Draft Day". A great item for any Auto hound, and the COA (certificate of authentication) is on the back of the card, as well as the front.
YahooGroup member Chris sent this info in about Jake:
"Jake, Adam's brother, was drafted in the 7th round in '96 by the San Jose Sharks as well, but medical problems kept him from playing."
Webmistress' note: I had the honor of meeting Jake on the night Adam formally retired in March of 2006. He looks a lot like Adam and is an extremely kind individual (especially for having put up with the nervousness and goofy babbling from yours truly!). Thank you Jake!
---
The "sister" mystery....SOLVED!
YahooGroup member Chris R. came to us with this bit of information in October, 2003:
"He has an 18 year old sister named PAMELA. She is going to school in Canada to be a sports broadcaster."

So as a result, I contacted somebody with closer ties and this is what they had to say: "Yes, Adam does have a younger sister, Pamela. I don't think I have ever read anything about him having a sister online, only about his brother Jake. I didn't even know he had a sister until (the hubby) told me about her. Yep, she's 18 years old, graduated high school and just started college towards a career in TV broadcasting." (Thanks to my source! You know who you are! ;) )
---
Other Little-Known Facts

**Born and raised in Canada, but has dual U.S.-Canadian citizenship because his mother is American and his father is Canadian.

**Helped Team USA win championship at 1996 World Cup of Hockey.

**Captained Team USA at the 1995 World Junior Championships.

**Played four years of Canadian junior hockey with Portland of the Western Hockey League. Scored 43 goals and 99 points during the 1993-94 season.

**Ron Hextall was traded for Deadmarsh (I found this on another site that had a page set up on Adam...if anyone can tell me details, it'd be greatly appreciated, unless Adam was one of those "future consideration draft pick" deals we hear so much about...?)

*~*The following facts sent in by Rosalyn from the old Colorado Avalanche website*~*

**Organized his first charity golf tournament this summer, the "Adam Deadmarsh Charity Golf Classic" Raised over $18,000 for the Trail Regional Hospital Ambulatory Care Unit in his hometown

**Would pay to watch Teemu Selanne and Jaromir Jagr play

**Calls the Broncos and Rockies his favorite teams

**Represented the USA in three World Junior Championships

**Competes off-ice with Peter Forsberg for pool, golf, basketball, and bowling "championship titles"

**Nicknamed "Sheepdog, Deader or Deadly"

**Had his name engraved wrong on the Cup, "Deadmarch"-first player to have a misspelling corrected

**First job was working with his dad as an electrician

**Married to the former Christa Brown

**Mom's name is Eileen, Dad's name is Hank,
and if the KIJHL is talking about the same man,
then his dad was once manager of Adam's very first minors team,
the Beaver Valley Nite Hawks.

From the Nite Hawks' site:
"Currently there have been two jerseys retired. One was #12 belonging to Adam Deadmarsh, and #2 belonging to four time KIJHL all-star goalie Rocky Dickson.
Coaches have included Tom Gawryletz, Roy Casler, Ed Wyatt, Doug Jones, Hank Deadmarsh, Terry Hanik, Ken Koshey, Pat Corrado and Terry Jones and Paul Matteucci."
---
The following was sent in by Rosalyn! Thanks!

From the Royal Reign program: Volume 3, Number 2

Favorite Stand-Up Comedian: Chris Rock
Favorite Movie: The Patriot
Favorite LA Laker: Shaquille O'Neal
Favorite Vacation Spot In Southern California: Sea World
Favorite Actor: Mel Gibson
Favorite Actress: Elisabeth Shue
Favorite TV Game Show: Jeopardy!
Favorite Supermodel: Heidi Klum
Favorite Type Of Music: Country
Favorite Restaurant: Morton's
Favorite Place To Hang Out: The Lake
Favorite Place To Go Fishing: Alaska
Favorite TV Show Your Wife Hates That You Watch: Fishing Shows

Additional Information:

Favorite Golf course: Castle Pines in Colorado
Hobbies include: fishing, playing pool, golf, basketball and bowling
---
From TeamUSA.com:

LOOKING BACK
Deadmarsh was born in Canada, and he is the only player on Team USA that has represented another country in international competition. That was back in 1992, when he led Canada's Under-18 team to the Pacific Cup championship. The following year, Deadmarsh, whose mother is American, joined Team USA for the World Junior Championship tournament and never looked back. In fact, Deadmarsh's ties to USA Hockey have become so strong over the past 10 years that he is one of few Western Hockey League graduates from his era who played his major junior hockey career in the United States. Deadmarsh spent all four of his WHL years with the Portland Winter Hawks, having first come to live in the U.S. when he was only 16.

HOCKEY BIOGRAPHY
Deadmarsh has been a master of timing during his NHL career, dating back to his draft day, when he was picked by a team on the verge of greatness. It happened in 1993, when the then Quebec Nordiques chose him 14th overall. The Nords were coming off their best season in nearly 10 years, and Deadmarsh, a high scorer from the Western Hockey League was expected to be a part of a bright future. It didn't take long for him to reach Quebec, as he joined the team in 1994-95 along with fellow rookie Peter Forsberg. After the season, Forsberg and Deadmarsh moved with the franchise to Colorado and helped turn the former cellar-dwellers into 1996 Stanley Cup champions. By 1996-97, Deadmarsh, still only 21 years old, was a 30-goal scorer on one of the NHL's top teams and had become a star player in the league. Unfortunately, his Colorado luck ran out in 2001, when he was traded to Los Angeles just a few months before the Avalanche won their second Stanley Cup.

OLYMPIC EXPERIENCE
Named to the Olympic team for the second time on December 22, 2001, Deadmarsh has played for Team USA at five previous major international tournaments:

*1998 Olympics (Nagano, Japan) -- Scored Team USA's final goal in 5-2 win over Belarus - the Americans' only victory.

*1996 World Cup -- Had four points during Team USA's run to championship. Was youngest player on roster at age 21.

*1995 World Junior Championships (Red Deer, Alberta) -- Was leading U.S. scorer with 10 points and set Team USA record for goals in a single tournament. Also set record for career games played at World Junior Championships with 21.

*1994 World Junior Championships (Ostrava, Czech Republic) -- Helped U.S. team to sixth place finish in his second World Junior appearance.

*1993 World Junior Championships (Gavle, Sweden) -- Made his World Junior debut as a 17-year-old on U.S. team that finished fourth.

CAREER NHL HIGHLIGHTS
Deadmarsh is a veteran of eight NHL seasons, spent with the Quebec/Colorado franchise and Los Angeles. Here is a look at some of his career highlights:

*Acquired by the Los Angeles Kings from Colorado on 2/21/01
*Made his Kings debut 2/24/01 vs. Columbus and scored his first goal as a King in his fourth game 3/3/01 vs. Detroit *Recorded six points (4-2) in 18 regular-season games with Los Angeles
*Notched three playoff goals, two of which were game-winners: in Game 5 of a first-round series with Detroit, and in Game 6 vs. the Red Wings, recording his first career playoff overtime goal at 4:48 to clinch the series
*Tied a Kings playoff record for most game-winning goals in a series
*After recording these two goals, he appeared in his 100th playoff game in Game 6 vs. Colorado 5/6/01 in 1999-00
*Skated in 71 regular-season games with Colorado, contributing 45 points (18-27)
*Scored his first career overtime goal 11/22/99 at Dallas, 3-2.
*Finished seventh in NHL playoff scoring with 15 points in 1998-99
*Registered 49 points (22-27) in 66 games
*Recorded his 100th NHL goal and 200th point 2/3/99 at Buffalo
*Tied for team lead with Peter Forsberg for most playoff goals with eight
*Generated 43 points (22-21) in 73 games of the 1997-98 regular season
*Led Colorado in goals in 1996-97 with 33, establishing a career single-season high
*His 60 points were also a career best during the 1995-96 campaign
*Was awarded his first career penalty shot and scored vs. Chicago's Jeff Hackett 3/1/96
*During his first season in 1994-95, he skated in 48 games with Quebec, registering 17 points (9-8)
*Finished second among NHL rookies in plus/minus at +16.

PERSONAL INFORMATION
Deadmarsh and his wife, Christa, are the parents of twin daughters, Alexis and Madison. The girls were born in February 2001. They now live in Idaho.

Note: Adam's Olympic Stats are located here.