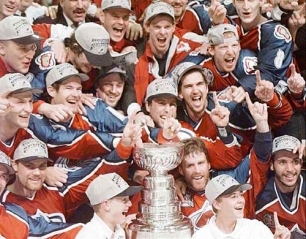 Sporting News Profiles: The Book On...Adam Deadmarsh
February 10, 1997

When Claude Lemieux was suspended for the first two games of last season's Stanley Cup finals, coach Marc Crawford moved Adam Deadmarsh to the team's No. 1 line with Peter Forsberg and Valeri Kamensky.
Lemieux, who just happens to be walking by, throws in a few words of advice. "Just be like me, and you'll be OK," he says with a laugh at his reputation as one of the league's most hated players.
Deadmarsh is a fast-rising star at power forward in the Lemieux mold, but he has his emotions much more under control than his unpredictable teammate. And 1996 was an incredible ride in which it would have been easy to lose perspective.
In a matter of months Deadmarsh, who comes from Trail, British Columbia, but holds dual citizenship (his mother is American, his father Canadian), was part of a Cup champion with Colorado and a gold medal-winning U.S. team in the World Cup of Hockey Tournament. And don't downplay his contribution.

Deadmarsh is a feisty player who has the ability to score the big goals and come through in the clutch, as he did while filling in for Lemieux in the Cup finals after a 21-goal, 17-assist regular season. He already has scored 21 times this season, most of the goals coming while stars Lemieux, Peter Forsberg and Joe Sakic were sidelined.
"Adam has really responded to the added responsibility, and he's one of the main reasons we've stayed successful without Peter, Joe and Claude," Crawford says.
Deadmarsh is 21, but he plays with much more maturity. He was the team's second pick in the first round of the 1993 entry draft. Deadmarsh's ability to play any of the three forward positions equally well is is what made him so valuable in the playoffs. He was one of the players whose ability to go to the net threw Florida goaltender John Vanbiesbrouck off his game in the finals, leading the Quebec/Colorado franchise to its first Cup championship.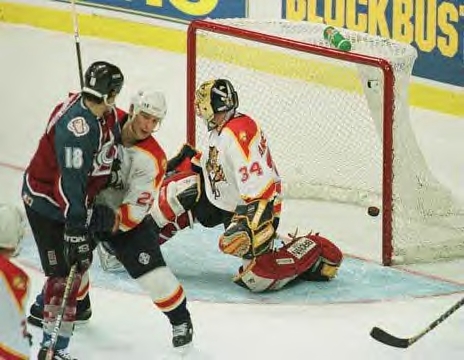 "You know you can count on getting an honest night's work from him every night," says Mighty Ducks coach Ron Wilson, who coached the U.S. team to the World Cup gold medal. "He never stops working."
Crawford agrees: "He is truly a power forward, a guy who can beat you with speed, a guy who can beat you with strength."
He also is the only player to have his name corrected on the Stanley Cup (it was engraved Deadmarch). "I guess I've still got something to prove," Deadmarsh says of the mistake.
Players facing Adam know exactly who they're up against.
-LARRY WIGGE
Reproduced with permission of the copyright owner.
Further reproduction or distribution is prohibited without permission.