Catchin' Up With ... Adam Deadmarsh
NHL.com, July 17, 2003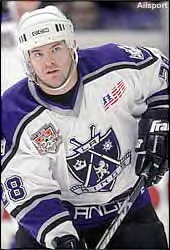 Adam Deadmarsh was the 14th overall pick of the Quebec Nordiques at the 1993 NHL Entry Draft and spent just over six years with the Quebec/Colorado franchise. Deadmarsh helped the Avalanche capture the 1996 Stanley Cup, notching five goals and 12 assists in 22 playoff games. The gritty power forward was dealt to the Los Angeles Kings in 2001 in the blockbuster trade that sent Rob Blake to the Mile High City.

The six-foot winger posted 62 points in 2001-02, his first full season with the Kings. In all, Deadmarsh has appeared in 567 regular season games and has 105 postseason contests to his credit. Deadmarsh has played for Team USA in several international competitions, including a first-place finish at the World Cup of Hockey championship in 1996.

Deadmarsh answered questions from NHL.com users on Thursday, July 17. Thanks to all those who submitted questions. Below are the submissions that were chosen and Adam's responses.
---

ERIN from PARKER, CO: What are you currently doing to prepare for the upcoming season? You've been off the ice for quite a period of time. How has that affected your attitude towards this upcoming season?

A: I think my attitude's very good. I'm very excited to get started again. Obviously missing that amount of time I'm itching to get back and get playing again. To prepare for the season, I've been working out pretty hard [in Los Angeles] for probably the last month and a half. Working out 100% with all the weights and on the bike and doing some skating occasionally. So I'm definitely getting myself ready for next year.


BRIAN Q from LOS ANGELES: Hey Deader, are you in 100% condition, ready to play and make an impact this season?

A: My conditioning is on the way, I wouldn't say I'm in top shape yet, but I'm working towards getting there. I still have quite a fair amount of time before camp to get there and I do expect that I will be 100% ready.


BRANDI from HONOLULU: How did you feel when the Kings weren't doing so well and you couldn't get onto the ice to help them out?

A: It was frustrating for sure. We had numerous injuries and all the guys felt the same way that they weren't able to get on the ice and help. Anytime that you're hurt and the team's not doing well, it's that much tougher to sit by and watch, so it was a tough year.


NATHAN from ONTARIO CANADA: I was just wondering what team and players did you look up to growing up and also what players or coaches have made the biggest impact on your career.

A: I grew up a big fan of Wayne Gretzky. Obviously I don't play anything like him, unfortunately. When I first got to Quebec I learned a lot. Marc Crawford was my coach back then and he was a great coach for me. He was tough on the younger guys which was really beneficial to me. It set me in the right direction and helped me learn to play the game both offensively and defensively. I think, to this point, Crawford's been a pretty big part of my NHL career. Players I looked up to, I always looked up to Joe Sakic. I'm good friends with him now and was back then, but he's always been kind of a role model for a lot of players that come in and play with him, because of his work ethic and his attitude towards the game. He's a great guy to learn from.


LARRY from ST. PAUL: You've played with some great players in your time with Colorado. What comes to mind when you think of Peter Forsberg and Patrick Roy?

A: Both those guys are obviously world-class athletes. Patty Roy is one of the best competitors I've ever met. He wants to win more than almost anyone. The only one that I'd say wants to win as much as him is Forsberg. Those two guys were great. I'm great friends with both of them. They're real classy guys, they want to win more than anything. Just great teammates for sure.


AMANDA from BOISE: At what point growing up did you realize you had the potential to be an NHL caliber player?

A: I guess when I put on an NHL uniform. You know I never really had it in my mind that I was guaranteed of even playing in the NHL. It wasn't a mindset for me. I always worked towards that goal. As I went through junior and my first NHL camp, I was excited to be there and knew one day it was a possibility, but it was not a guarantee. When I finally made that team that was probably the first day that I realized it could have been done.


NICHOLAS from FT. WORTH: What would you be doing if you weren't a hockey player?

A: Good question, I don't know. My dad's an electrician, he has his own business. I worked with him a bit as a kid and I'm sure that's something I would have gone into.


ED from ANAHEIM: What do you think of the Kings recent acquisitions (Roman Cechmanek, Jozef Stumpel, Trent Klatt)?

A: I really like them. Cechmanek has great numbers. Stumpy plays very well with Ziggy [Palffy]. They played together before and did very well. I know from playing against Klatt, that he's a real solid, gritty player and tough to knock off the puck. They should all definitely help our team, so it's exciting.


TALLY from LAKEVILLE: What is your outlook on the 2003-2004 season for the Kings?

A: I think if we can all stay healthy we'll have a very competitive team. We had so many injuries last year that it was real tough to judge how our team was doing. We had a great start to the season last year, so I expect that that's going to be our goal again this year. Get off to a good start, try to keep guys in the lineup and see what happens.


RICHARD from CHINO HILLS, CA: How is it playing on a line with Ziggy Palffy and Jason Allison?

A: It's pretty exciting. My job on that line is to kind of just chase down pucks and try to free it up for them. They've got the tough job of beating guys one-on-one and stuff like that, so I'm kind of their little gopher to go in and take that puck out for them. It's a fun job, I enjoy it. That's what I've always done. It's quite an honor to play with two players like that.


ADAM Z from CEDARBURG, WISCONSIN: Hi, Adam! I was wondering about the emotions you went through when you were traded at the 2001 trade deadline from the Avs to the Kings for Rob Blake and Steven Reinprecht? How did it feel to leave your former team and compete against that team in the playoffs?

A: Anytime somebody gets traded, well, not always, they are pretty emotionally attached to the city they're in. I had been [in Colorado] for about seven years. I was a little surprised at first, but once I got [to Los Angeles], guys made me feel very welcome and the city's great. It's a great place to live. I've had a lot of fun coming here. Thinking about [playing Colorado in the playoffs] was weird, but once you get on the ice, you get in the mind-frame of just trying to beat the guys across from you and that's the way I played it. I didn't look at those guys as my teammates of three months ago, I just went out and played and did the best to help out my team.


KEITH from BRITISH COLUMBIA: What was your reaction when you found out that your name was spelt wrong on the Stanley Cup?

A: I found out by seeing it. They brought the Cup to one of our golf tournaments before the next season. We looked at the Cup and everyone went to see their name on it. Obviously that's a lifelong dream of most every hockey player. When I went and looked and saw that it was spelt wrong, it was upsetting I guess. Obviously you've wanted that your whole life and you finally achieved it and you go to look at it and it's spelt wrong, so it's a little upsetting, but [the engravers] were great about it. They said, 'Oh, no problem, we'll fix it,' so that was that.


IGOR K from PALMETTO: Throughout history, which goalie would you most like to take a penalty shot against?

A: I guess Patty Roy. He's probably the best and to say you scored a penalty shot goal against him would be a pretty special feeling.


HARRY from BOSTON: What was it like being a member of the 1996 U.S. team that won the World Cup of Hockey?

A: That was an exciting time. That was a pretty fun tournament to play in. It was great hockey and we had to win a couple of games in a row there to win that. It was in Montreal and everyone knows how great the fans are there and how exciting hockey could be in an atmosphere like that. It was a lot of fun and a great feeling.


ANTWAN from PORTLAND: What was it like playing for Ron Wilson on the '96 World Cup team? Did he give you any advice that helped improve your game?

A: Ron was great, but there's only so much you can do in a couple of weeks. The coach is there to more get to know his players and try to figure out situations to put them in. There's not a lot of teaching and instructing at that point, but he was great. He was great with the guys and did a great job of managing the lines for sure.


LANCE from ENCINO, CA: Where does winning the World Cup rank on your hockey list of accomplishments?

A: Maybe third. Winning the Stanley Cup is No. 1 and then the silver medal at the Olympics. I'd put that No. 2.