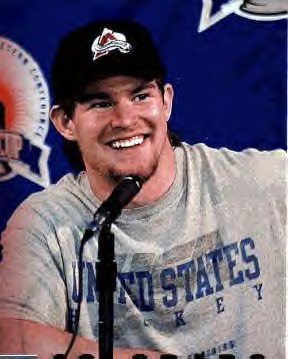 Thank you to Rosalyn for submitting the following transcript!
(Can anyone tell me the little mistake in the first line that I noticed? Some sports site....lol ;-) )
COLORADO D ADAM DEADMARSH
CBS SportsLine Chat Transcript February 26, 1999
Deadmarsh helped lead the Avalanche to its four game sweep over Florida to win the 1996 Stanley Cup.
---

The Colorado Avalanche are enjoying a season in which they have a comfortable lead in their division and are playing some of their best hockey in the second half of the year. Right-winger Adam Deadmarsh stopped by to talk with CBS SportsLine fans on Friday, Feb. 26 and gave his thoughts on the Avs recent streaky play. Deadmarsh is on pace for his fourth straight 20-goal season as he is third on the club with 16 goals and fourth with 35 points. Deadmarsh's best season came after the Avalanche won the Stanley Cup in 1996, when he finished the 1996-97 season with 33 goals and 60 points. Adam was a member of the 1998 U.S. Olympic Hockey Team, the 1996 World Cup Championship team and has been a three-time member of the U.S. National Junior Team between 1993-95. Find out what Adam had to say in the full transcript of his chat below.
---
Adam Deadmarsh: Hey everyone -- I'm ready to go. Fire away with questions.

Question: Have you always wanted to be a pro hockey player?
Adam Deadmarsh: Yes. I always dreamed of it as a kid. A lot of kids I grew up with had the same dream, I'm very fortunate.

Question: How do you think the team is playing as a whole?
Adam Deadmarsh: We've been playing pretty average, good in streaks, bad in streaks. If you want to compete for the Cup, you have to play solid hockey all the time. That's what we have to work on.

Question: Adam, do you think its necessary to have at least two "superstars" on a line to be a successful team, such as Lindros and LeClair, or Forsberg and Sakic, or even Yzerman and Federov?
Adam Deadmarsh: I don't think it's a necessity. But it definitely makes it exciting, and helps the team if you can do that.

Question: Adam, how hard was it to adjust to Bob Hartley's style as opposed to Marc Crawford's?
Adam Deadmarsh: It wasn't too tough. They're both intense coaches that demand a lot from their players. Everything else falls into place. It was an easy adjustment.

Question: Adam-, ow do you feel about the early season Jones-Podein trade?
Adam Deadmarsh: Sometimes you make trades in the business, sometimes it benefits your team, sometimes it doesn't. We got a great player in Podein, but I think both teams are happy.

Question: Was winning the Stanley Cup over the Panthers your best moment in the NHL?
Adam Deadmarsh: That was the best moment of my life probably. I don't think I can find anything that can top that.

Question: Adam, do you prefer playing center or right wing?
Adam Deadmarsh: I don't know if I like it more or less. It's just an adjustment I've had to make. Center is a fun challenge, but I also like to play wing.

Question: What is the most memorable goal you've ever scored?
Adam Deadmarsh: Probably my first goal. That's my fondest goal scoring memory.

Question: Adam, did hockey come easy to you?
Adam Deadmarsh: Yeah, because I had fun playing it. I was never the best player on the ice, I just always loved to play. Every time I got a chance, it was always a lot of fun.

Question: Adam, you've played for Quebec/Colorado your entire professional career. It is possible to imagine playing for another organization?
Adam Deadmarsh: I haven't really thought about it. Someday that may happen, but right now my focus is here in Colorado.

Question: Who do the Avalanche feel is the best team in the East? Do you get up for playing Philly more, or a team like Buffalo or N.J.? Adam Deadmarsh: There's a lot of good teams in the East. Ottawa, Pittsburgh, Philadelphia and N.J. have really showed promise. I try to prepare for each game the same way.

Question: Adam, what was going right for you guys during that long win streak?
Adam Deadmarsh: Everyone was working hard, and working together. And the pucks were just going in for us. It just happened to last for a long time. It was fun.

Question: Adam, who was the biggest influence in your life?
Adam Deadmarsh: My parents. They've always stood behind me in anything I've wanted to do. It was always easy to make decisions because I knew they'd support me.

Question: Among Americans only, do you think you're in the top five players?
Adam Deadmarsh: LeClair, Leech,... Richter and Beezer among goalies are some of the best. Back to the goalies, I think we've got the best in the league. And Tkachuk, definitely.

Question: Didn't you have a cousin that played in the NHL? Did he help you in your desire to play professionally?
Adam Deadmarsh: Yeah, his name was Butch Deadmarsh. But I wasn't in too much contact with him growing up.

Question: Do you think Jaromir Jagr is the best player in the NHL this year?
Adam Deadmarsh: He's definitely top 3. Whenever he's on the ice, he's tough to stop, that's for sure.

Question: Who was your favorite team as a kid?
Adam Deadmarsh: The Oilers. I was a big Gretzky fan. All those guys were my heroes growing up.

Question: Adam, you have your most PIM's against your Northwest rivals - do you play more intensely during those games?
Adam Deadmarsh: I don't know. Ha ha. I don't know why it works out that way. The Northwest teams have the biggest, toughest squads, that's for sure.

Question: Adam, I have really enjoyed your rivalry with the Oilers the past couple of years, who do the Av's feel is the biggest rival? Adam Deadmarsh: The Oilers are a good rival. Detroit has always been a good battle, and we have some pretty good games with Dallas now.

Question: What is the toughest arena to play in?
Adam Deadmarsh: I don't know. There's a lot of tough buildings. New Jersey is tough, Philly is tough.

Question: Did the Pens impress you last night?
Adam Deadmarsh: Yeah, they did. They have four lines that can all play, and solid defense. I think that's going to help them very much in the playoffs.

Question: What is the most memorable fight you've ever been involved in?
Adam Deadmarsh: My first fight -- I lost in about one second! The headache was memorable.

Question: Who did you scrap?
Adam Deadmarsh: Paluso.

Question: What do you do in your spare time?
Adam Deadmarsh: I love to golf, and I love to fish and hunt too.

Question: Adam, why don't you respect the Sabres?
Adam Deadmarsh: I do respect them. They have a young team that works really hard. And great goaltending. They're going to be a great competitor.

Question: The Avs are 12-12-4 at home as opposed to 17-10-4. What could be the reason for that?
Adam Deadmarsh: That's a question we've all asked ourselves. It's been frustrating for us. We're going to have to get more focused and turn it around.

Question: Could you please comment on the contribution of the two rooks, Hejduk and Drury?
Adam Deadmarsh: Erik, they've been great. They've brought a lot of depth to our team, something I think we were missing from last year.

Question: Adam, what was it like changing from Quebec to Colorado?
Adam Deadmarsh: It was a pretty easy adjustment. I was only in Quebec for half a year. I hadn't set any roots yet.

Question: Do you know when Roy will be back?
Adam Deadmarsh: I don't know, but he's feeling better, and he practiced today, so it shouldn't be long.

Adam Deadmarsh: Thanks everyone, I have to run. It was fun.