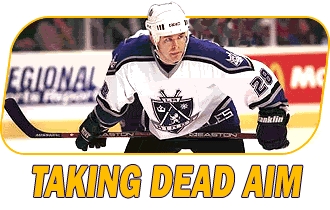 © 2002 DirecTV.
Adam Deadmarsh already has lifted Lord Stanleyís Cup, but his desire to do so in L.A. is greater than ever. For some athletes, what they do is more than just a job, itís a fantasy come true.
Growing up in Trail, British Columbia, hockey quickly became a way of life for Adam Deadmarsh. The small-town boy with big-time dreams has fulfilled almost every wish his mind could create while playing street hockey with neighborhood friends.
Deadmarsh was an integral part of Coloradoís Cup-winning squad in 1996, but he was shipped to Los Angeles during the 2000-01 season when the Avs won their second championship. Now, the desire to climb back to the top of the NHL mountain burns brighter than ever in the Kings right winger.
He talked about that quest as well as his hockey roots in an exclusive interview with DIRECTV SPORTS THIS WEEK.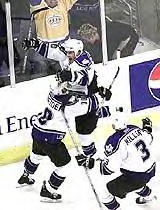 DSTW: What was it like to suit up for your first NHL game?
AD: My first NHL game was quite an exciting time for me, probably one of the most exciting moments of my life. To be able to walk into the room and see the jerseys hanging, it was almost a numb sensation to be able to put that jersey on and walk out to that arena for the first time.
DSTW: As a child, what turned you on to hockey and did you ever think youíd make it to the NHL?
AD: Growing up in a small town hockey is almost a religion. We loved to play it on ice. We loved to play street hockey. Anytime we could get a stick in our hand was a time that we all looked forward to and dreaming of playing in the NHL was always a dream for all of us. I feel very honored to be a part of it now. I think every kid who plays hockey thinks about playing in the NHL at some point. When youíre very young itís an exciting feeling to pretend that you are playing in the NHL, pretending you are a particular someone in the NHL. Just to get out there and enjoy and make good friends whether itís on the ice or in the street itís memories that you will share forever.
DSTW:Who did you try to emulate as a kid?
AD: I used to love watching Wayne Gretzky play. Obviously I havenít picked up many of his moves, but he was always a guy I loved to watch and sure made hockey interesting to me. I always pretended to be Wayne Gretzky but so did every other kid on the street. So we were all battling each other as Wayne Gretzky. He was definitely an idol of many kids growing up and what a fun guy to watch play the game.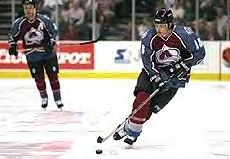 DSTW: When did you get your first taste of NHL hockey in person?
AD: I remember going to my first NHL game. I was probably about seven years old and it was in Vancouver and the Oilers were in town. I went down near the glass in warm-up and you could feel the breeze coming from the guys skating around the ice and it was such an awesome feeling to be that close to guys. It was a great feeling and something that Iíll never forget. The speed and size of the guys to me at the time was incredible. I remember the pace at which the game was played and the intensity at which it was played and it was something that has really stuck in my mind.
DSTW: You played four years in the Western Hockey League before getting the call up to the big squad. After nearly seven professional seasons in Colorado, how did you feel about being traded to Los Angeles?
AD: When I got traded to the Kings I didnít know what to expect. We werenít in a playoff spot. We were a number of points out and obviously didnít know what to expect. I got there and got to meet the guys and seeing the heart and desire in our dressing room, it was such a relief. The guys were very competitive and really battled hard to get into that playoff spot and once we got there we kept on rolling.
DSTW: The Kings do not possess the most talented roster in the league, but there appears to be a solid chemistry you guys have together.
AD: I think chemistry is made up of a lot of different things. You have a lot of different aspects to go in to having good chemistry on a hockey team. You have to have your skill. You have to have your grit and you have to have your determination by everyone to play a two-way game. I thought our team did a great job of playing that style of hockey. It carried on for the last 20-odd games of the season and into the playoffs.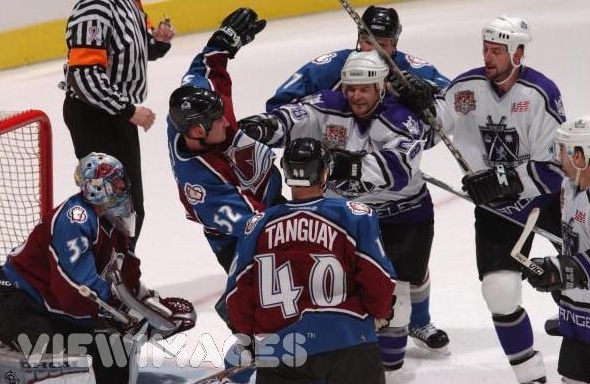 DSTW: The hard-nosed style really comes into play in the postseason, doesnít it?

AD: Playoff hockey is gritty hockey, period. It comes down to grinding in the corners and battling for loose pucks throughout the ice surface. If you look at playoff goals, a lot are scored from right in front of the net whether itís banging in rebounds or tipping in pucks. And you have to pay the price to win in the playoffs and teams that are successful have everyone on their team paying that price for that ultimate goal. In my mind playoff hockey is the ultimate in sports. Itís such a grind. Itís such an achievement to win in the playoffs. Itís a total team effort and thatís what makes it a lot of fun, when you all achieve it together. There are a number of things that can determine a series in the playoffs, but I think it really comes down to heart and desire. The team that wants it the most is going to win.
DSTW: Speaking of ultimate goals, talk about the game-winner you had in Game 6 of the 2001 playoffs against Detroit.
AD: I was just on the receiving end of a good play by a couple of guys. Ziggy Palffy and Jozef Stumpel were joining me on a three-on-two rush and they were moving the puck quite well on the sidewall. Jozef shot it at the net and I was fortunate enough to have the rebound squirt out to me on the other side. I was just trying to do my job and drive the net.
DSTW: The Avalanche have eliminated the Kings in consecutive seasons by winning Game 7 in two grueling series. It seems like home-ice advantage meant a lot in both of those deciding games.
AD: I think thereís a big advantage of having home-ice advantage. I really think itís important to have that seventh game if it comes to that at home. I think thatís what home-ice advantage is all about. To be able to play that in your own building is an advantage that is well worth working towards during the season. The crowd is very important to a hockey atmosphere. The biggest affect the crowd has on players is in between plays, whether itís after a goal, whether itís the start of a period. I think thatís when the crowd has the biggest affect on players. Once the puck drops I think a lot of the guys are able to tune out everything surrounding them and they can focus on what they need to do, but itís when you come out onto the ice for that first time or after a period thatís when the crowd gets your team excited and ready to go.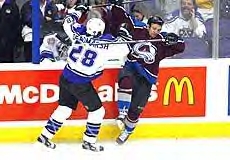 DSTW: You reached the pinnacle of hockey when Colorado won the Cup in 1996. How did it feel to win it all?
AD: Winning the Stanley Cup is in my mind by far the ultimate goal and the ultimate achievement. Iíve had the opportunity to win it once and Iíll never take that for granted. Itís something that Iíll always remember and keep in my mind forever and something that I look forward to telling my grandkids about when Iím sitting on my rocking chair. You always dream of winning the Stanley Cup and like I said, Iíve been fortunate enough to win one but my desire to go out there and try and win another is higher than itís ever been.

Thursday, August 15, 2002
©Allsport-Photographers: J. Victor Decolongon (headline), Robert Laberge (1), Donald Miralle (2), Noah Graham (3) and Jamie Squire (4)