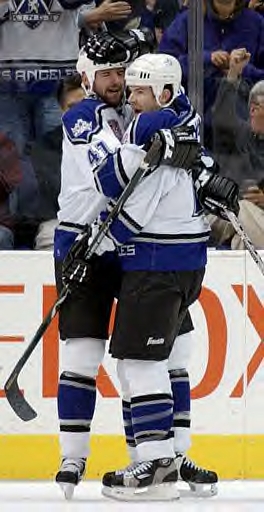 Fair Trade All Around
Faceoff.com
April 12, 2002
By TONY GALLAGHER
The Vancouver Province

The trade that sent Rob Blake to Denver late last season may have won a Cup for the Avalanche, but it was no small shot in the arm for the L.A. Kings, either.
Though it was a miserable time for Adam Deadmarsh, what with his family still in Denver, professionally it has turned out remarkably well for him and GM Dave Taylor. The deal set the standard for getting the most for a soon-to-be-unrestricted free agent.
Not only did Taylor get Deadmarsh and Aaron Miller, who helped the Kings stretch their season to a seventh game in the second round, the Kings landed solid prospect Jared Aulin, their first-round pick last season Dave Steckel and the Avs' top pick in the '03 draft. All this for Blake, a guy who wasn't going back to L.A. no matter how much the Kings offered, because he felt, perhaps rightly, he'd been insulted in the process.
Miller has been outstanding, virtually stepping in for Blake while Deadmarsh has enjoyed his best season with 61 points going into Thursday's tilt with the Canucks. The energy and leadership he brought have made him genuinely appreciated in L.A., whereas that never seemed to be the case in Colorado where there were so many stars ahead of him.
"I was just happy to be playing and with such a successful, offensive type of team. I never really got the feeling of being under-appreciated" says Deadmarsh of Colorado.
"It's such a big help to start your career with a team like that where, [if] you make a mistake, it isn't always going to cost you. As far as the contract problems went, I always thought Pierre [Avs GM Lacroix] was just doing his job. The trade, what with the timing of everything last year, was tough but it's kind of worked out pretty well."
The Fruitvale winger isn't exactly playing with plowhorses in L.A., with Jason Allison and Ziggy Palffy. And this season's Olympic appearance with the Americans meant more exceptional company.
"It's been a pretty good year, really," he says, thinking back to the Olympics and ahead to what might happen in the playoffs if Felix Potvin holds up.
"I've enjoyed my time playing with them [the American team] and I tried not to think about playing against Canada. I just played. I was just in awe of being out there with the guys that were playing on both sides. But I've been playing with them since I was 16 and I have an American family, so I just keep going. You can't change midway through, anyway."
His Olympic treachery aside, Deadmarsh and Miller came into a situation that was ripe to take off in late February last season.
"When Adam and I got there the team was just so happy to get the Rob [Blake] situation cleared up," says Miller.
"He had been such a big part of that team for so long and that thing had played like a soap opera. Everyone was glad to see it stop, even though nobody in the room wanted to see him traded.
"Once it became inevitable, getting it over was a relief. From there, they accepted us and basically said, 'Show us what it takes.' It was a team that hadn't done much in the playoffs."
Kings coach Andy Murray also believes the trade was a lift.
"Getting Felix was the biggest thing for us because our other guys weren't getting it done. We had nothing to lose by getting him, just the remaining two months on his contract. They [Vancouver] got nothing if we didn't re-sign him and he was the only help out there. But, after Felix, those two guys were very important. Aaron has stepped in and played a lot and Adam gives us a great presence and speed up front."
That presence and speed are missing from the Colorado lineup. It was perhaps the price of winning a Cup for the Avs, a payment the Kings were thrilled to receive.