Adam Deadmarsh: Guts and Glory
by Paul Freeman and Wendy Flower-Freeman
Webthumper.com

Acquiring Adam Deadmarsh from the Colorado Avalanche has to rank high on the list of Kings GM Dave Taylor's accomplishments.
Deadmarsh pours his heart and soul into every shift, not only banging and grinding, but also filling the net.
Top Shelf talked with him about his first full season with the Kings.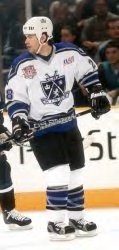 In the room, did the players remain upbeat during the difficult start to this season?

It was pretty positive, for having the record we had in the beginning. Everyone felt we played pretty well. We just couldn't find ways to win hockey games. It wasn't like we were just terrible and couldn't win. I thought we were playing all right, but just could find a way to win. So the atmosphere was pretty good and we were able to bounce back from it.
How significant was the trade that brought Jason Allison to the Kings?

It happened pretty early in the season. We got two great players and we lost two great players. It was just one of those trades where both teams got some pretty good players.
What do you see as being the greatest strengths of the club at this point?

It's our special teams right now. Our power play and penalty-killing are doing outstanding. They're really winning hockey games for us.
In the playoffs last year, the Kings had a terrific run. Is that indicative of the club's true potential?

I sure hope so. What we did last year was great. But its something that we can definitely build on. Obviously the first step is to make the playoffs and we've got quite a battle to compete and get into the playoffs.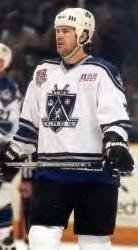 How difficult was the adjustment for you, coming to the Kings from the Avs?

Well, now that the family's here and were all settled, its been a real easy adjustment. It was a little tough at first, leaving the family. But now that they're with me, everything's great.
What do you like about bringing up a family in Southern California?

The obvious -- the weather's great. We live in a place where, if you want to get your mind away from hockey a little bit, you can go walk down to the beach. I really enjoy it.
Was it any easier leaving the Avs, having already shared in a Cup-winning experience there?

I'm very fortunate to have played the years I did in Colorado, with great players and a great organization. I was fortunate enough to win a Stanley Cup. I'll never take that for granted. I'm just grateful for the years I did play there and look forward to many enjoyable ones in L.A.