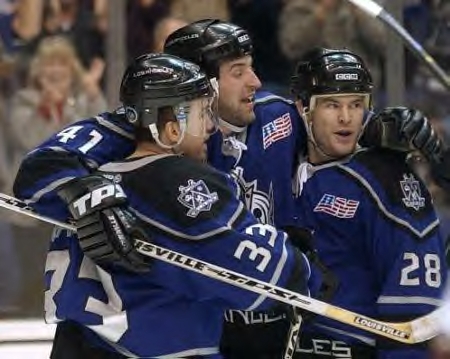 NHLPA - In The Spotlight
June 2, 1999

The 23-year-old winger and native of Trail, British Columbia, recalls his minor hockey and junior hockey memories. A first round pick in the 1993 Entry Draft by the Quebec Nordiques, Deadmarsh also talks about the weirdest thing he's seen in his five-year NHL career.
Superstitions: None really. I get ready for the game pretty much the same way. I guess that could be a superstition in a way. I tie my skates at a certain time and just that kind of stuff. Routines more than superstitions.
Favorite NHL Uniform: Growing up, the Blackhawks uniform was always a uniform that everyone loved to talk about and it was always one of my favorites because I actually wore that uniform in junior playing in Portland. I like the looks of that uniform. But I really like the looks of ours, too.
Favorite Arena: I like going to Vancouver and GM Place.
Toughest Team To Play: I think Detroit has always been a tough team for us. We have a real good rivalry and great hockey games with them.
Who impresses you the most in today's league?
I think there are a number of pretty unique players in the league. I think there are probably three or four that are pretty much above the rest. I think Peter (Forsberg) is one of them. I think (Jaromir) Jagr is another. (Teemu) Selanne is also a great player. Those guys are pretty fun to watch.
Who impressed you the most when you broke into the league?
Jagr. My first year was the lockout year so I didn't play against a lot of teams. But my next year I got to play against every one of them. Playing against Gretzky was probably who I was in awe of most.
How long was it before you could confidently call yourself an NHLer?
I think maybe the time you get your rookie season under your belt and you've played every game and you're in the lineup a lot. I think after that first year you can pretty much say that you're an NHL player then.
Most Memorable Game: The game when we won the Stanley Cup (in 1996).
Who was your hockey hero?
Gretzky.
If you could play with any current or former NHLer, who would it be?
I don't know, I'm pretty spoiled as it is! I get to play with Sakic and Forsberg and those guys. I don't know if I'd want to play with anybody else.
Biggest Hockey Influence: My parents.
Minor Hockey Memories: I have a lot of minor hockey memories. I think the most important thing is all the great friends you make in minor hockey. I met a lot of good friends that I grew up playing with.
Junior Hockey Memories: Junior was a lot of fun. You spend all that time on the bus and you're with the same guys all the time so you get to be pretty good friends with a lot of them.
What quality do you admire most in a teammate?
I think the most important thing is the will to win. I think that shows a lot of character when someone will go out there and do what it takes on a consistent basis to win.
Biggest Prankster You've Played With: Mike Keane.
The weirdest thing you've seen in hockey: I think the weirdest thing I ever saw was when we were playing Detroit one time and Patrick Roy stickhandled through a couple guys and went right to the red line. They had to blow the whistle on him.
First Job: I worked with my dad back home. He's an electrician and I would always be the one up in the attic pulling all the wires through the rafters.
What would you like to do after hockey?
I think stay involved in sports somehow.
Favorite Hobby: Hunting and fishing.
Who is the most famous person you've met?
Tiger Woods.
When you think of your hometown (Trail, British Columbia), what's the first thing that comes to mind?
Just friends and family that are back there.
Every teenager can easily stray from his desired course. Who kept you straight?
My parents.