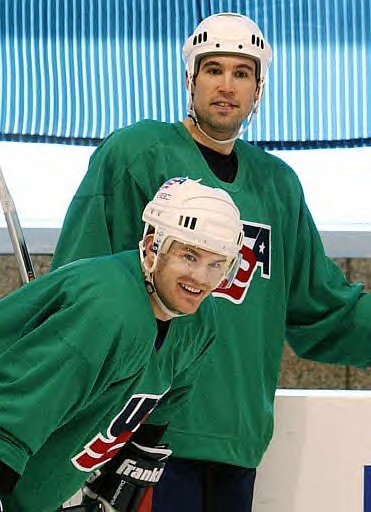 Notable Quotes

This page is for all of the quoteworthy things that Adam has said to the press (or even on the ice) during his NHL career, as well as things that others have said about him along the way. I hope you get the same joy out of reading it that I did in putting it together.
---
About "The Trade"
4/25/01-
"It's a perfect scenario for me. I get to go home and see my wife and kids and play in the second round of the playoffs. Who could ask for something better than that?"
4/2/01- "Right when it first happened, I was upset at the whole situation and couldn't understand it," said Deadmarsh, who will face his old team for the first time today in Los Angeles. "But after sitting down, I understood hockey is a business. It was a business decision and understandable. It's not a personal matter, and that's how you have to treat it."
5/1/01 - "He said that [general manager] Pierre Lacroix wanted to see me. I knew I'd been traded. I started thinking about the girls and having to leave Christa after all we'd been through. It was hard to keep it together. Once I calmed down and realized my family was okay, I got into playing in L.A."

Aaron Miller on Adam and The Trade: "Adam was angry and in really rough shape. He was unapproachable. He told me, 'I'm not flying out with you tomorrow,' and that was it."
Peter Forsberg on Adam and The Trade (2/23/01)- "We came in the league at the same time, we've been roommates, we've been really good friends for a long time. I'm so sad that he's leaving. But it's part of the business so I just have to go on."

Fooling Around
7/1/02- When asked about his upcoming stint with Joe Thornton as the spokepeople in DirecTV's commercials Center Ice Package:

Is this the start of a Hollywood career for #28?
"I don't know if any directors will be beating on my door after this – that's for sure."

You have no desire to star in any action/adventure movies?
"Only if I don't have to talk - then I should be fine."

9/5/01- Adam Deadmarsh wore No. 18 for Colorado until he was traded to the Los Angeles Kings in February. Now it belongs to youngster Chris Drury.
"Deadmarsh told me I could buy him a Rolex when he was here," Drury said. "I figured I'd wait it out. It was a good move."
Deadmarsh denied holding the number for ransom. "Don't believe anything that kid says."
3/31/01-About the bizarre play in the second period where he was credited for a goal after hitting the post, then the goal was disallowed: "I knew it wasn't in; it hit the post. When they said it was, I was actually very surprised. Sometimes when they say it's in, you don't argue too much." (laughs)

2/6/99- When asked about his most memorable fight: "My first fight -- I lost in about one second! The headache was memorable."
5/12/97- "I bought a big pot to cook spaghetti as a pregame meal. My mom told me to wash it out before I used it, which makes a lot of sense."
01-02 Season on road roomie Aaron Miller- "I usually have the remote, but I don't want to throw it over to him too hard; probably break something. He's pretty skinny and frail. He's a bit of a strange roommate. He spends a lot of time in the bathroom trying to comb his hair over to cover up all of his bald spots. So that's the most frustrating part--you can never get in the bathroom; he's always doing that. He actually eats like a pig, but he just doesn't gain any weight. Once in awhile, he gets caught in the crevice of the bed and you have to pull him out of there, but yeah, he's just real scrawny."
Aaron Miller's rebuttal: "We usually watch his shows. He likes Murder, She Wrote and Matlock are two of his favorites. I'll get up and usually take a shower early. He never showers; he just kind of wets his hair down. Occasionally, he'll maybe put some deodorant on or brush his teeth, but if he wets his hair and combs it, it's a good day for him. We usually order a meal before we go to bed. I'll usually order a salad or something, and he'll get two or three banana splits. I always get the clicker, he has to close the shades, turn off the lights and make wake-up calls. It's kind of a pretty good setup when I'm in charge."
Same segment; Jamie Storr messing around: "Deadmarsh...everytime I check my bill's close to five hundred bucks cause of everything he eats."

Keane messing around (5/12/97)- "Gee, I thought he got the nickname 'Pig' because of how much he eats. Christa says he doesn't eat much at home, but he makes up for it when he's gone. That boy eats enough for a small country."

Marc Crawford messing around (5/12/97)- "He can play all three forward positions, although some would say that's because Adam doesn't know where he is on the ice."
Peter Forsberg messing around (4/26/01)- "I'd like to erase his face; I don't like looking at it anyway."
Family Man
"I, obviously, had other things on my mind. But once I get my equipment on and get out there, I'm pretty focused. I have a job to do on the ice and as a father and husband (off the ice)."
4/01- "I guess you start seeing other guys with babies around and you start thinking about starting a family of your own. It's kind of like catching a fever."
4/26/01- "It has been a hard year. But my prayers have been answered. The babies are both healthy. Everything else is trivial."
9/16/01- "The biggest thing I learned last year was really something I already knew, that family was the most important thing. Without them, this really doesn't mean much."
5/7/01- "It seems like a long, long road trip for me. But I've got this picture of my wife and daughters smiling as I left them what seems like months ago. I fall back on that snapshot I feed off of it-every day, every practice, every game."
Preseason Interview from Fox SportsNet LA; 01-02 Season: "Our kids are doing outstanding, and it really makes life special, that's for sure."
Favorite Moments
4/25/01- "The year we won the Stanley Cup, I think that last game was probably my best moment in hockey. But to score (in overtime) and to move into the next round, especially to play Colorado, makes it definitely right up there as one of my most special moments, for sure."

2/6/99- When asked about the win over the Panthers for The Cup: "That was the best moment of my life probably. I don't think I can find anything that can top that."
5/12/99- "You know, it was pretty amazing. I had hardly won anything in my life, then within three months I win the Stanley Cup and the World Cup. Incredible."
10/8/96 (When he got his Cup ring two months early)- "You don't really understand how good it feels until you look at that ring on your finger. I'll probably be staring at it for the next 60 years.''
Don't Mess With Him

To a player who hit teammate Mattias Norstrom on an icing call- "What the f*** do you think you're doing? You f***ing moron!"

Win, Win, Win
On a play by Fischer that hyperextended his back after the 4-0 loss that put the Kings down 0-2 in the best-of-seven series: "There is no time to worry about that; it's fine. We have to be men. We have to turn this around."
3/9/02- "You always want to win every game, but this one you want to win a bit more. You want to win against a team like Colorado because we could meet up against them later."

4/26/01 (On returning to the Pepsi Center for the first time as a King)- "I don't look at it like I'm standing in their way. I look at it like they're standing in my way."
Preseason Interview on Fox SportsNet LA; 01-02 Season: "You know, I'm not going to change the way I am and the way I play or anything like that. You know, I'll go out and work hard and if you want to call that leadership, then fine. I'm just going to come to the rink and do what I've always done and try to bring a good work ethic and show up every night."
On The Olympics
11/29/01- "If I was picked to play, I'd be there. It's such an honor to play in the Olympics. If I was given the chance, I'd definitely take it."
4/12/02- "I've enjoyed my time playing with them [the American team] and I tried not to think about playing against Canada. I just played. I was just in awe of being out there with the guys that were playing on both sides. But I've been playing with them since I was 16 and I have an American family, so I just keep going. You can't change midway through, anyway."
Coach Murray on Adam and The Olympics: "He'll be playing for the U.S., but he's a true Canadian."
On Los Angeles
"I love L.A. I've had a great time here. I love the weather, I love our fans, I love the setup we have as a team."
"The weather's great. We live in a place where, if you want to get your mind away from hockey a little bit, you can go walk down to the beach. I really enjoy it."

What His Peers Say About Him
Aaron Miller: "I'm so happy for him. It was really tough for him with his kids, and he really struggled a little bit scoring early on. They talked about him before the series being a guy who always killed them, and here he is doing it again. He just works so hard. He goes to the net with reckless abandon and right now, he's the heart-and-soul of this team. We all want to play like Adam's playing right now. And I think most of us are, because we wouldn't have beaten Detroit if we weren't."
Scott Stevens: "He's a good player and one tough kid. The way he came back from that Jovanovski thing this year, a lot of guys aren't the same after something like that. He got right back at it."
Steve Yzerman: "That's the guy that kills us."
Cliff Ronning: "Superstars don't necessarily win you the Cup. Adam Deadmarsh is an excellent player, someone who can do the little things out on the ice that others can't. The big-name guys are targeted out there. Guys like Adam are the ones who make the difference."
Andy Murray (4/24/02): "Adam does not do anything halfway; if he gets hurt, he gets hurt good. That's the kind of player he is."
Peter Forsberg (5/12/97): "I like Adam because he's an honest person. He's really straight. There's nothing complicated about him. He likes to fish. He likes to hang around."
Kings' Trainer Pete Demers (11/18/02): "Adam is a tough kid and sometimes it is hard for him to tell us when something is wrong."

What Christa Has To Say About Him
"He does laundry and I've taught him the proper way to fold towels."
"I love watching Alexis and Madison play with Adam. It is adorable when they both crawl over to him screaming 'da da.' Within seconds, Adam becomes the household jungle gym! It is truly amazing how two little people can brighten up your day!"
On Working With Patrick Roy
(Thanks Rosalyn!)

Former Avalanche forward Adam Deadmarsh, who left the team in 2001, said it was a privilege to play with Roy for as long as he did.

"I have so many good memories of Patrick," Deadmarsh said. "Whether it was playing cards with him on the plane and joking around, or just being with him on the ice. He's such a winner. He made all of us better players right away when he came to Colorado. I mean, we won the Stanley Cup right after we got him. It certainly wouldn't have happened, I don't think, without Patrick."