The Stanley Cup: 1996

I thought that this would make an interesting personal page on Adam. When I did some searching on the web, I found a couple of photos that had been missing from the site, in relation to Adam's Cup win with the Avs in 1996. So I was thinking, why not have an all-Cup page on the site? :)
Enjoy!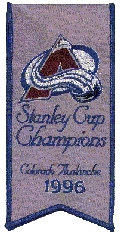 The following is a neat little article about the surprise early rings the team got.

newstimes.com
October 8, 1996
--------------------------------------------------------------------------------

Avalanche Receive Championship Rings in Surprise Ceremony
DENVER (AP) - Nearly four months after winning the Stanley Cup, the Colorado Avalanche finally have their championship rings.

The players received the rings Sunday from Daniel Ruettiger - the Notre Dame walk-on football player who gained fame in the movie "Rudy'' - during a dinner at the Castle Pine Golf Club.

"We didn't expect to get our rings. What a great surprise!'' forward Adam Deadmarsh said. "(General manager) Pierre (Lacroix) was telling me the rings were delayed and we weren't going to get them until after Christmas.''

Ruettiger was asked to present the rings because the Avalanche had watched a highlight film interspersed with scenes from "Rudy'' before their run through the playoffs.

The players were watching another highlight video Sunday when Ruettiger rolled out the Stanley Cup filled with the rings, which were created by Diamond Cutters International of Houston.

The rings bear an Avalanche logo made of baguettes and pave-set diamonds in the middle and etched with "Stanley Cup champions, 1996.''

One side is inscribed with "It's all about commitment'' with a diamond in a mountain next to the word "First,'' signifying the team's first championship. The other side of the ring features the Stanley Cup and the result of each playoff series.

"You don't really understand how good it feels until you look at that ring on your finger,'' Deadmarsh said. "I'll probably be staring at it for the next 60 years.''

© 1996 Associated Press. All rights reserved.
This material may not be published, broadcast, rewritten, or redistributed.