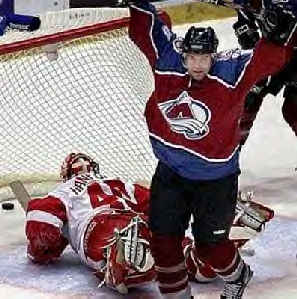 Deadmarsh: The Key To Victory
May 8, 2000

Take a look at the sweaters that hang in the Colorado locker room and you'll read the names of some of the greatest players in the game today: Bourque, Roy, Sakic, Forsberg. Their jerseys are best-sellers - and for good reason.
So what about guys like Adam Deadmarsh? Deadmarsh's No. 18 might not ring up the same sales as some of his teammates' merchandise does, but he is every bit as valuable to Colorado's playoff success as are his teammates. In fact, you could say he's the Avs' main man.
When Adam Deadmarsh pans the Avalanche dressing room from time-to-time, he sees more than a locker room where towel-snapping and quick barbs are dished out as frequently as an Adam Foote body check. No, he sees it is a classroom of sorts or even a Pandora's Box. It is a place where he can look into the eyes of several hockey greats and learn an aspect of the game from each, incorporating bits and pieces into his own repertoire. That's what makes Deadmarsh so invaluable, especially at playoff time.
"There's definitely a lot of lessons to be learned on this team," said Deadmarsh, who scored 18 goals and had 27 assists in 1999-2000. "Shooting on Patrick (Roy) in practice is a big challenge. He works very hard in practice and makes it tough to score on him. You watch Joey (Sakic) work on his shot after practice. Peter has the puck on a string. It's pretty exciting to watch."
Therein lies the identity problem for Deadmarsh. Admittedly, his game is not about flash nor is it about finesse. It is easy to notice Forsberg dipsy-doodling into the opposition's zone or to watch Sakic let a wrister rip from the hashmarks. Deadmarsh's game is built on playing the fundamentals of hockey, embracing all of the aspects of the game and doing each and every one well.
He shuns the Rodney Dangerfield "I get no respect" line. This comes from a guy who is downright modest and somewhat uncomfortable discussing the pros and cons of his game. He is most happy with his physical approach to the game and he bemoans his shot, envious of Sakic's ability to pick corners with ease. When reminded of 1990-91, the year he notched 28 goals in just 35 games with Beaver Valley of the Kitimat International Junior B. Hockey League, Deadmarsh laughed. "That was a long time ago and it was a bit different league than the NHL."
Then perhaps it is best to defer to Deadmarsh's peers to get the skinny on what makes him a solid NHLer. Cliff Ronning of the Nashville Predators was recently asked who is the key player on Colorado in the playoffs. Roy? Nope. Sakic? Guess again.
"Superstars don't necessarily win you the Cup," said Ronning. "Adam Deadmarsh is an excellent player, someone who can do the little things out on the ice that others can't. The big-name guys are targeted out there. Guys like Adam are the ones who make the difference."
Deadmarsh has never been the so-called "best" player on his team. In fact, he can still recall his years prior to the NHL, before his junior days with Portland of the WHL, as a competitor who was never in the spotlight, never a player who led his team in scoring. Funny then, just how little things have changed.
"I was never really the best player on the teams I played on," said Deadmarsh, who totaled 276 points in four years of major junior. "I was always the type of guy who got to play with the best players. I kind of just fed off of them. I've been pretty fortunate to play with great players. It's helped my game."
What does a good game entail for Deadmarsh? Points, the measuring stick by which many judge the worth of a player, is not the true indicator, says Deadmarsh. When the final buzzer sounds, the soon-to-be 25-year-old doesn't need anyone to tell him if he's played up to par. That critique comes from within.
"If I'm skating well and if I'm moving my feet on the ice then I will have played well," said Deadmarsh. "If I seem like I'm gliding and not pressing the forecheck, I didn't play as I should. I just try to play hockey the way it should be played."
While he isn't likely to outclass teammate Peter Forsberg on the ice, away from the game, the two friends have been waging friendly battles over the past few years for "championship titles" in pool, basketball, bowling and other competitions. Does he have Forsberg's number in any of the games?
"Do I have his number?" chuckled Deadmarsh. "I used to have his number in golf, but he beat me last year. I'm going to have to work on that this summer. I was pretty disappointed with that."
The next time you see the Avs play, keep an eye on Deadmarsh. He could very well be the one who changes the game. It could be with a goal or perhaps a solid hit. It might even be something as simple as breaking up a neutral zone pass. You aren't likely to utter the word 'Wow' when you watch him. He's just not that type of player. Not at all. He's just the type of player no team can do without.