Personal Information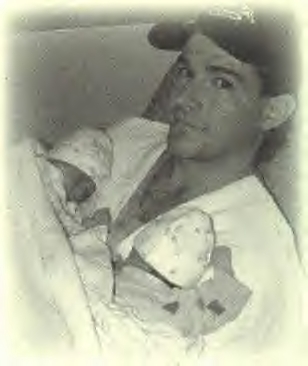 Many big thanks to Rosalyn for this sweet picture out of the Kings' Wives' Cookbook!
*~*2001 - 2002 Was A Wonderful Year!*~*
February 9, 2001 - Proud parents Adam and Christa Deadmarsh welcome twin daughters Alexis and Madison into the world.
February 21, 2001 - Adam is traded to the L.A. Kings.
April 23, 2001 - Adam scores the now-infamous first-round goal in OT to send the Red Wings on their earliest sendout since 1994, and L.A. on their first first-round advancement since 1993.
August 9, 2001 - Adam is one of 37 NHLers invited to Olympic Camp.
October 23, 2001 - Adam scores point #300 and gets a career-high five point game against the Columbus Blue Jackets.
December 20, 2001 - Adam skates in his 500th NHL game against Ottawa.
December 22, 2001 - Adam officially gets named to Team USA's Olympic roster and will be wearing #28.
January 13, 2002 - All-Star voting totals are released and Adam is named second-highest-voted King with 43, 292 votes.
February 24, 2002 - Adam and Team USA win silver in a hard-faught battle against Team Canada in Salt Lake City, Utah.

In the words of the late, great Jackie Gleason:
*~* "How sweet it is!" *~*
---
There are important things for every site to have such as facts and figures. Sports figures are pretty challenging, as their stats are in need of a constant update.

Here, you will find everything like stats, bio, off-ice activities and appearances, milestones, etc.

Enjoy!

Bio

Stats

Achievements

Notable Quotes

Recent News/News Archives (Average; Not Special) -- Returning soon

Adam Deadmarsh: Red Wing Killer

The Stanley Cup: 1996

The Twins' Page: A Page Dedicated Solely To Adam's Daughters

Off-Ice Activities and Interesting Things

A Serious Question

Winter Olympics FAQ...and Facts
The Competitive Best Friend: Peter Forsberg
Professional Players' Wives Know How To Cope

*~* Special Articles, Past and Present *~*

Taking Dead Aim
Courtesy DirecTV
Adam Deadmarsh Chat Transcript - 2/26/99

Deadmarsh A Deal-Maker

Big Deal: "Dead On"
Adam Deadmarsh: Guts And Glory
Sports Illustrated Profiles: On His Way
Fair Trade All Around

The Kid Has Been Around

NHLPA- In The Spotlight

Deadmarsh: The Key To Victory
Catchin' Up With... Adam Deadmarsh
(NHL.com, July, 2003, Thanks Rosalyn and Simon!)